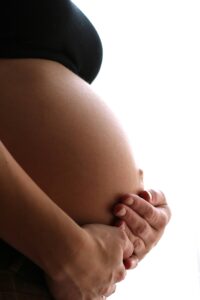 Acupuncture for pregnancy or 'pregnancy acupuncture' is a wonderful modality to help a woman no matter what stage she is at while on her journey to motherhood.
Is it safe? Potential patients commonly call the office wondering if receiving acupuncture during pregnancy is safe. The answer is YES! And actually acupuncture during pregnancy is recommended; especially in the first trimester!
Our acupuncturists are all fertility specialists; we've gone above and beyond the basic Chinese medicine studies to understand how the mechanisms behind acupuncture and pregnancy work. We work with patients trying to get pregnant, throughout their whole pregnancy and finally after their pregnancy.
Acupuncture for pregnancy can support many different systems of the body.
Diminishing spasms of the uterus so implantation is solidified!
Staving off any possibility for miscarriage.
Enhancing blood flow to the uterus for nourishment of that embryo and fetus for normal growth.
Relaxing the body overall and alleviating stress so that more Qi (Energy) and Blood is available to the reproductive organs.
Building resources to enhance energy, our experience at Tao to Wellness is that low energy is the number #1 symptom during the first trimester, not nausea.
Helping harmonize the digestive system whether you are experiencing nausea or constipation or some other discomfort.
We also offer support in nutritional advice and supplementation if necessary.
Third trimester challenges:
Alleviating pain; muscle, tendon, ligament or disc issues.
Keeping your immunity up throughout! Being sick/having a cold in the third trimester of your pregnancy can be VERY challenging and really zap your energy!
Supporting issues like Placenta Previa.
Helping in breech! Research shows acupuncture and moxibustion have an 80% success rate in turning a breech baby. In fact, it was featured in the Journal of the American Medical Association! Click here for that study.
Lastly, the magic of cervical ripening or otherwise known as induction. The induction done here is gentle and non-invasive, think of it as just a small nudge, however most women do go into labor with the help of acupuncture and were able to avoid Pitocin altogether. Also, research shows working with patients in the last trimester also helped speed up their second stage of labor, which basically means the labor process was easier and faster. Who doesn't want that?
Maybe it took a long time get here or maybe this is your third child, either way let us help you feel as comfortable as possible throughout the process. Acupuncture for pregnancy can be magical support.