Salt Lamp Health Benefits
The Himalayan Salt Lamp craze has been going on for awhile now, when they first came out years ago, I fell in love right away. I couldn't wait to get my hands on one– $50?! Wow, a high price for a block of salt from a far away country, but I got one anyway and didn't regret it one bit. After that first one, I needed more—one in every room of the house, one in every treatment room in the office! I was on a roll! Although I didn't go the distance and decorate each room, I certainly got a handful more. I remember finding a whole sale company who carried them in bulk, so if I bought 10, I could get the wholesale price of $20 each! Score! We sold them in the office, I hope some of you still have them! Now, these little gems are so much easier to come by… Amazon or even Home Goods has the smaller size for $20.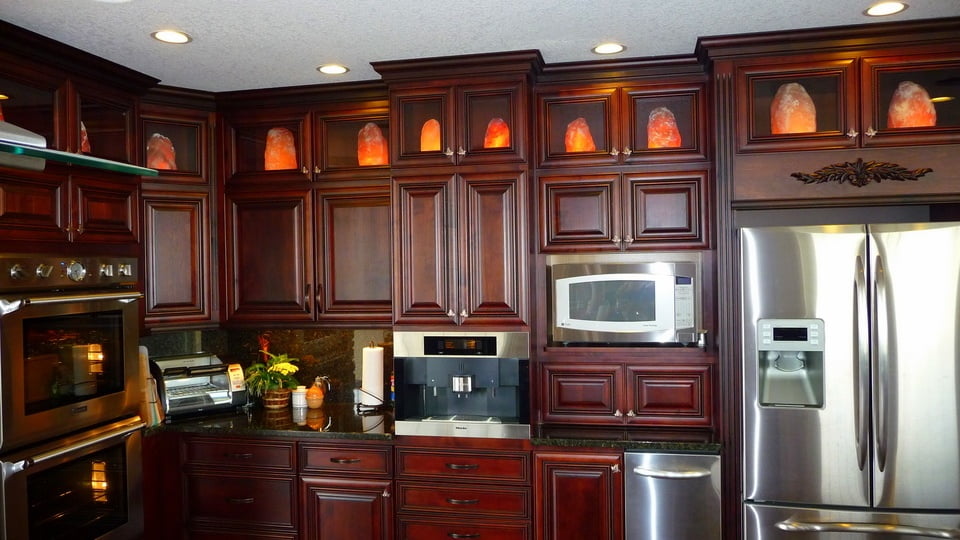 opens IMAGE file
Just kidding, this isn't my kitchen– but someone certainly went the distance!
After gifting my boyfriend's mother, Connie, one for her birthday she said she has not had a panic attack since it's been in her bedroom, it reminded me how powerful this sacred salt is! And I definitely wouldn't call her a 'believer' in the New Age and Woo Woo. So why wait, go get yourself one, as Connie would say it can't hurt! Besides, the stunning glow gives the room already makes it worth it. If that's not enough reason, here are some of the health benefits you might experience:
10 Salt Lamp Health Benefits — Tao to Wellness
Improve Mood, Concentration, & Help Manage Anxiety
Reduce Allergy & Asthma Symptoms
Eases Coughing
Increase Energy Levels
Neutralize Electromagnetic Radiation
Better Sleep
Cleanse & Deodorize the Air
Treat Seasonal Affective Disorder
Reduce Static Electricity in the Air
Environmentally-Friendly Light Source
Here's a site with 10 other reasons/ideas for taking Himalayan Salt internally too; bath, Neti, in water. I do these as well.
http://www.naturallivingideas.com/himalayan-pink-salt-benefits/
One last helpful site– how to spot if your lamp is fake! I love David Wolfe, he's got his finger on the pulse on everything.
https://www.davidwolfe.com/5-signs-himalayan-salt-lamp-fake/
Lastly, if you'd like to surround yourself with Himalayan Salt, look for a Korean Spa near you… among their domes (clay, gold, amethyst, arctic ice rooms, etc, etc) they will always have a Himalayan Salt Room, a little meditation in there can be a wonderful experience!
Happy New Year!
Christina Martin, L.Ac.,
Tao to Wellness
Berkeley, California
https://www.berkeley-acupuncture.com/wp-content/uploads/2017/01/bigstock-Relaxing-Salt-Lamp-3179563-837x560.jpg
560
837
Christina Martin
https://www.berkeley-acupuncture.com/wp-content/uploads/2017/10/logo-jan9-new4.png
Christina Martin
2017-01-08 19:53:45
2017-10-06 18:34:48
Salt Lamp Health Benefits